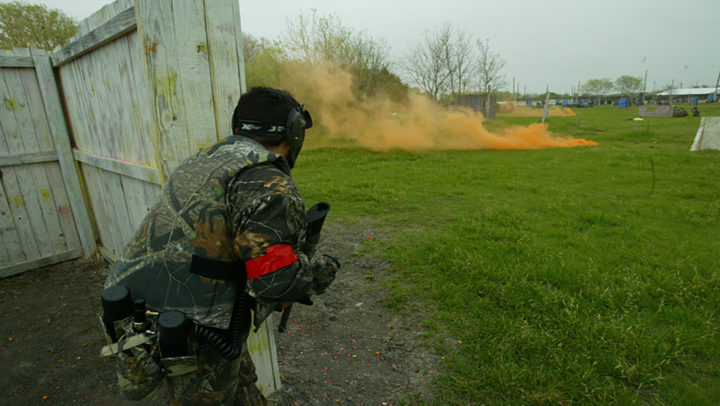 Commonly Asked Questions
What are your holiday hours?
Remember we will open any day of the week for groups of 10 or more players, so bring you family and friends out to play during the holiday break!
We will be open the Friday after Thanksgiving. November 24, 2017 9:00-5:30. 

We will be closed Christmas Eve December 24, 2017.

We will be open New Years Eve 10:00-3:00.
What is the age requirement
Beginner Equipment and Paint: age as low as 6 years old with a private reservation of 8 or more players.

Standard Equipment and Paint: age as low as 10 years old.
What should I wear to play paintball?
Light weight, breathable clothing. If you are new to the sport you may want to cover your legs and arms. If it's warm outside put a short sleeve shirt with a long sleeve lightweight shirt or jacket over it. You may take the long sleeve off after you play awhile. Our paint does wash out but we advise against wearing white clothes – wear something you don't mind getting dirty.

Shoes need to be closed toe athletic shoes. We recommend comfortable tennis shoes and soccer cleats. Some of our woodsball players use combat boots, those will also work.
Can we bring our own food & drinks?
NO ALCOHOL allowed. We sell reasonably-priced concession drinks and food items in the snack area. However, you can also bring your own food and non-alcoholic drinks.
What kind of protective gear should I have?
We have chest protectors for rent (Women and children under 8 can use the chest protector for free).
Do you do private groups?
Yes we do! Private party session lasts 4 hours.

You can choose either the morning session from 9AM-1PM or afternoon 1:30PM-5:30PM.

Weekend groups: A minimum of 8 players for beginner .50 cal and a minimum of 10 players for intermediate .68 cal paintballs, with a $5 per person deposit

Weekday groups: A minimum of 10 players is required, with a $200 deposit per group

If you don't have enough players to make a private reservation, you can play as walk-ons (your group will be mixed with other players on the field to make a group of about 15 on 15).

For more pricing on private parties, please see the pricing page.
Can I bring my own paint?
No we are field paint only. No outside paint is allowed in the park.
Are Ref Tips Allowed?
Yes they are allowed and appreciated.
How big is the park?
The park is 57 acres! We promise you'll have enough land to roam.
How many fields do you have?
We have 10 different diverse fields to choose from. Our players favorites include:  Airport (with 2 airplanes) Black Hawk Down (a down Huey helicopter) and West World (a village close quarter structure).
What kind of games/ missions do you have?
Team death match

Capture the flag

Attack and defend

Capture objectives
Can I play paintball when it rains?
Absolutely! We play paintball rain or shine here at Official Paintball of Texas.

The only time we stop playing paintball is when there's lightning. When we don't see lightning    for 15 minutes we resume play.
Can I bring my pets?
;